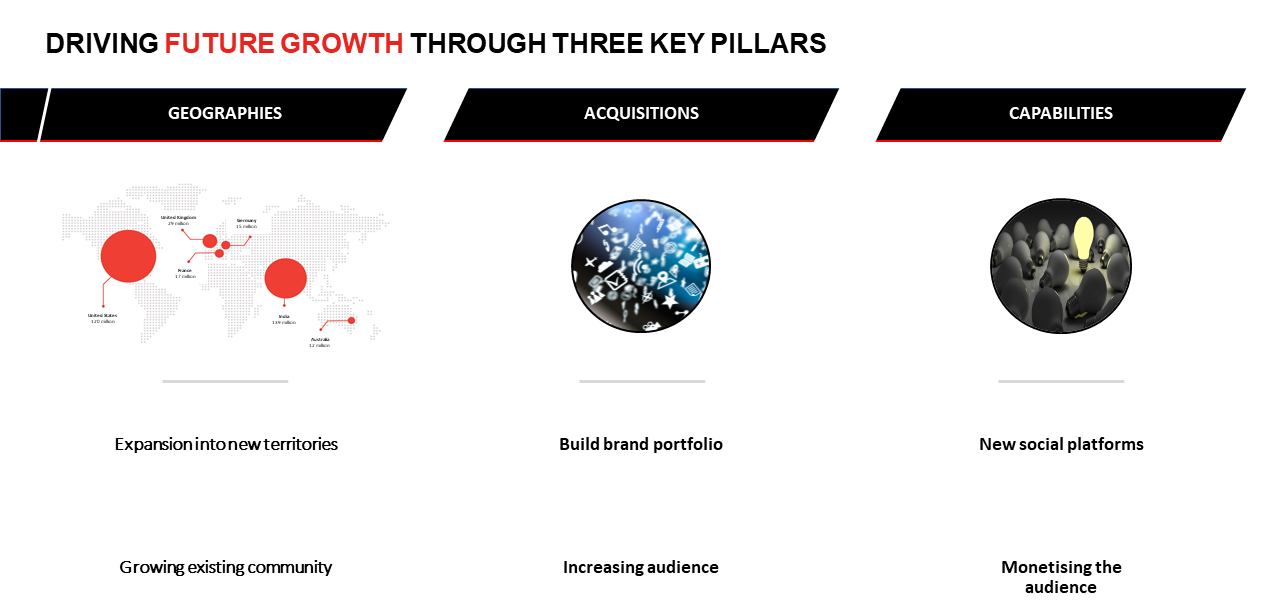 LBG Media has a proven track record of delivering strong organic growth, as well as growth through the acquisition and successful integration of UNILAD in 2018. The Group remains ambitious and wants to grow and enhance its position in the marketplace, leveraging its credibility as a listed company. By leveraging its existing global, social, and digital platforms to grow its loyal communities, the Group hopes to further expand its presence in core markets to help build scale. The Directors strategy for growth can be summarised into the below three core pillars.

Geographies
The Group currently has a physical presence across four territories: the UK, Ireland, Australia and New Zealand. Entry to these territories was underpinned by the audiences and engagement with them. By continuing to create and publish relevant digital content, the Directors expect to further grow these communities and build brand awareness levels within them. The majority of the Group's revenue is generated in the UK (FY20: 94 per cent.).

Operating in the digital media space, international audiences are readily accessible. The Directors have identified the United States, one of the largest digitally social markets in the world, as a key growth market. LBG Media has already built a substantial global community of social media followers in the United States alone, despite being strategically focused on the UK market thus far. The Directors believe that active audiences in new geographies provide a foundation for future growth across both the Indirect and Direct revenue streams and help to de-risk geographic expansion.

M&A
The Group has proven, through its successful acquisition and integration of UNILAD, that M&A is a viable proposition to enhance future growth. The acquisition strategy will be centred around bolstering LBG Media's existing global footprint.

Although the Group has already successfully expanded into new territories organically, the Directors believe that certain markets may be better accessed through selective acquisitions, particularly where an established digital media brand with a physical presence and understanding of the local market already exists. In these circumstances, M&A could help the Group to scale its reach and build its Direct Revenue arm significantly faster than a time-intensive organic approach.

M&A could also prove to be more efficient in acquiring new, supplementary brands when compared to building a new brand with its own distinct popular interest point from a standing start. The Directors believe M&A, in these circumstances, could provide an opportunity for the Group to deliver significant incremental growth in the brand's reach, by promoting it via the Group's existing global brands and communities.

Capabilities
The Group has been at the forefront of social media, being one of the first digital content creators to publish content on Facebook. This agile model allows the Group to actively replicate content across newly emerging social platforms, ensuring content reaches the widest possible audience.
The Directors intend to continue to expand the Group's capabilities to produce innovative content and drive engagement. Examples of innovations to date include virtual reality, augmented reality and LADx, a new video advertising unit exclusive to the Group.

Increasing audience monetisation is key to driving future growth. Facebook, Snapchat and YouTube are currently the only social media platforms which facilitate the monetisation of its users through adverts. Facebook introduced this functionality in 2018 and, as a result, LBG Media saw an increase in social video revenue from £0.9 million in FY18 to £4.2 million in FY19 (366 per cent. y-o-y growth), owing in part to the acquisition of UNILAD. During 2021, LBG Media was invited by Instagram as one of a select few digital content producers across the globe, to partake in alpha testing for the monetisation of Instagram's users through in-video adverts. The Directors believe these capabilities will be introduced across all social media platforms as the platforms mature, providing significant upside opportunities.
The Group has primarily focussed on the LADbible brand, with the volume of new content added to its other portfolio brands, such as FOODbible, materially lower. The Directors believe that increasing focus on other brands, provides the ability to grow their audiences and increase associated revenue.